A humidifier is designed to provide just the right level of humidity to protect your cigars from drying out or becoming too wet. This is especially true when you want to protect premium sticks, like COHIBA cigars, that you purchased for a special occasion or a tasty treat.
There are a variety of different types and styles of humidifiers to choose from ranging from beads and crystals to bags and electronic devices. The type of humidifier you choose should depend on how many cigars you normally keep on hand, and the make and model of your humidor. In most cases, an electronic model is the best choice for a larger humidor, while bags, beads, and crystals can work well for small, desktop humidors.
Since there are so many different types, styles, and models on the market to choose from, picking the right model can seem complicated and even overwhelming. Fortunately, I've done all the hard work for you. I've reviewed dozens of the leading models on the market and I've narrowed it down to the ten best that can expertly maintain humidity levels. These humidifiers are available in a wide variety of price points, so you can choose a model based on humidor size and your budget.
I've also created an extensive buyer's guide, which discusses the different types of humidifiers you can choose from, how they work, and what type of humidor they'll work for.
Cigar Humidifiers Comparison Chart
| Product | Type | Accuracy | Cost | Rating |
| --- | --- | --- | --- | --- |
| Cigar Oasis Plus 3.0 | Electronic | 0.06 | $$ | |
| Xikar Crystal 100 Humidifier | Gel | 0.03 | $ | |
| Diamond Crown Humidifier 100 | Electronic | 0.03 | $$$ | |
| HumidiCup Humidifier | Electronic | 0.03 | $ | |
| Hydra Personal Series | Electronic | 0.03 | $$ | |
| Boveda 72 Percent RH | Bag | 0.01 | $ | |
| REMIGHTELY BRIGHT | Puck | 0.01 | $ | |
| Joe Cool Cigar Gel Humidifier | Gel | 0.03 | $ | |
| Cigar Oasis Ultra 3.0 | Electronic | 0.03 | $ | |
| Ciguardian Humi Lube Head Gasket | Gel | 0.01 | $ | |
| Xikar Cigar Bar Humidifier | Gel | 0.03 | $ | |
1.

Best Overall: Cigar Oasis Excel 3.0 Electronic Humidifier

Our Rating: (5/5)
Cigar Oasis is one of the more reliable names in the tobacco industry. It has been operating for over two decades, providing top-notch humidification solutions to cigar enthusiasts all over the world.
If you are looking for a small humidor that packs a lot of power, this Oasis cigar humidifier has got you covered. It earned the top spot on our list for many reasons.
This electronic model by Cigar Oasis is perfect for end-table humidors and small cabinet humidors. It comes with a micro USB that connects to a USB power adapter. Since there's no drilling required, installation is fast and easy. Its large soft-touch buttons and back-lit LCD display will allow you to easily monitor the humidity level in your humidor, around the clock. It will also keep track of the humidor's internal temperature and is highly adjustable.
This model comes equipped with a water cartridge that's pre-treated. To maintain the humidifier, simply fill up the water cartridge with distilled water when it starts to run low. The powerful fan efficiently circulates the air for even humidity distribution throughout the entire humidor. Because the fan is so powerful and efficient, you don't have to worry about rotating your cigars.
That's why this Oasis cigar humidifier can get rid of the musty odors from the buildup of dead air that usually comes with passively controlled small humidors. A sensor controls the fan, which then distributes the air to all the parts of the small humidor.
With everything it has to offer, it is easy to see why this product from Oasis Cigar is one of the best small humidors in the market.
Pros
Powerful fan
Beginner-friendly
Built-in thermometer
Back-lit digital display
Water cartridge
Compact
Cons
Price
Six percent accuracy rating
2.
Best Rectangular
: Xikar Crystal 250 Humidifier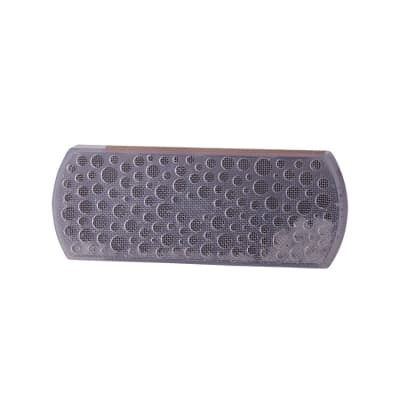 Our Rating: (4.5/5)
The Xikar Crystal 250 Humidifier is not only safe and effective but also very easy to use. It comes in a rectangular polycarbonate case measuring 6.5 x 2.5 x 0.5 inches. Inside is a special kind of polymer gel capable of absorbing 450 times its weight. With this, you can ensure the best environment for your cigars.
To give you an idea, this gel humidifier maintains 70% humidity by slowly and steadily releasing moisture. The best part is that it works well, even with just plain distilled water. However, for even better cigar humidification, use Xikar's pre-mixed propylene glycol solution. It also attaches to the humidor's lid via a magnet attachment system.
The gel looks like sea salt when dry and becomes gelatin-like when activated. You can use it with humidors with a maximum capacity of 250 cigars. To know exactly when it needs a refill, the gel will shrink as it loses moisture.
Pros
Easy to use
For up to 250 cigars
Ideal for beginners
Maintains 70% humidity
Efficient
Cons
Works best with Xikar's PG solution
3.

Best Electronic: HumidiCup Cigar Humidifier

Our Rating: (4.5/5)
HumidiCup is a company that manufactures automatic humidification systems for electronic cigar humidors and cigarette cabinets. It also makes accessories like water cartridges, external fans, and ribbon cables. The HumidiCup Electronic Cigar Humidifier is the company's top-tier offering.
This model earned a high score for its powerful fan, which will automatically switch on when the sensor detects a drop in the humidity level. This model will regulate the level of humidity in a humidor automatically, so your cigars will retain their freshness for several months. This model can support up to eight hundred cigars or a humidor that's up to eight cubic feet. This is a maintenance-free model that comes equipped with a display and audio alarms that will alert you if the water reservoir is running low or the fan is not working efficiently.
Pros
One year warranty
Powerful fan
Low water alarm
Fan error alarm
Large display
Cons
The Price
Three percent accuracy rating
4.

Best Display: Hydra Personal Series Electronic Cigar Humidifier

Our Rating: (4.5/5)
If you are looking for a cigar humidor that is very effective but easy to use, you should seriously consider getting this electronic cigar humidifier from Hydra.
Not much is known about the company, but the product is quite popular among cigar enthusiasts looking for high-quality humidification solutions online.
It comes with a higher price tag than some other brands. Even so, you'll be happy to know that you'll be getting more than what you pay for with this product, which offers great value for your money.
This electronic humidifier by Hydra features a large LED display that makes it easier for you to closely monitor the humidor's humidity level. This model will work for a mini cabinet style humidor, a desktop model, or any humidor that's up to eight cubic feet. For more power, you can add up to three external fans in order to boost the humidification power. It comes equipped with a foam-filled water cartridge, two extra fan ports, one internal fan, and a visual and audible low water indicator.
With all the functions supported by this electronic cigar humidifier, you can simply set the right conditions for your stogies and forget about it. You'll be free to enjoy smoking without having to worry about their quality deteriorating. All you have to do is make sure you refill the foam cartridge from time to time, which is easy enough to do.
Pros
Calibration knob
Large LED display
Foam-filled water cartridge
Visual and audible low water indicator
Works for humidors up to eight cubic feet
Cons
The Price
Foam cartridge needs to be refilled often
5.

Best Circular: Xikar Crystal Humidifier 100




Our Rating: (4.5/5)

If you need a smaller humidifier, you can get the Xikar Crystal 100. As the name suggests, it is designed for humidors that can hold up to 100 cigars. Therefore, it's the ideal choice for those new to this hobby.

Instead of rectangular, it's round and measures 3.375 inches in diameter and 0.875 inches thick. Though small, the same special hi-tech polymer gel inside can absorb 450 times its weight. As such, you can guarantee a steady humidity level of 70% inside.

Humidors with a volume of up to 850 cubic inches will benefit from this round humidifier. It has a strong magnet at the bottom so that you can easily attach it to the lid. Simply activate the crystals using Xikar's PG solution, and you're good to go.
Pros
Hassle-free installation

Affordable

Ideal for storing 100 cigars

Works for cigars of all sizes and types

Lasts for several weeks
Cons
May not work with low-quality humidors

Best when used with Xikar's PG solution

6. Low Maintenance: Boveda 72 Percent RH 2-Way Humidity Control

Our Rating: (4.5/5)
This four-pack of bag style humidifiers is affordable, efficient, and perfect for smaller humidors. You will use one bag per twenty-five cigars. You don't have to activate the bags, simply place one inside the humidor. Now, you won't have to worry about low water levels or ongoing maintenance. The bag needs to be replaced every three months. You'll know when the bag needs to be replaced once it becomes rigid.
Pros
Bag can handle twenty-five cigars at a time
No water needed
Low maintenance
Perfect for smaller humidors
Affordable
Pack of four
Cons
Will not work for large humidors
Cigars must be rotated weekly for even humidification

7. Best Puck Style: REMIGHTELY BRIGHT Cigar Humidifier

Our Rating: (4.5/5)
This is a puck style humidifier that's made out of polymer moisturizing cotton and PVC. It's designed for all cigar sizes and types and has a moisturizing range of fifty liters. Obviously, given its smaller size, it shouldn't be used in a large humidor, but it will work well for most models of desktop humidors. Installing it in your humidor is simple, due to the 3M patch that allows you to stick it anywhere inside.
Pros
Easy installation
Low price
Perfect for desktop humidors
Works for cigars of all sizes
Cons
3M sticker mount option
Must be replaced every two months

8. Best Crystal: Joe Cool Cigar Gel Humidifier

Our Rating: (4.5/5)
According to the manufacturer, it's very efficient and able to maintain a humidity level of seventy percent RH.
This humidifying gel by Joe Cool is easy to use, low maintenance, and it really works. To use, all you have to do is remove the lid and place it inside your humidor. Once the gel returns to a crystal form, all you have to do is add some distilled water to the refill line. Each jar can handle up to one hundred and fifty cigars.
Pros
Affordable
Beginner-friendly
Low maintenance
Efficient
Cons
You must rotate your cigars weekly for even humidification
9.

Best for Desktop Humidor: Cigar Oasis Ultra 3.0 Electronic Humidifier

Our Rating: (4.5/5)
Cigar Oasis makes another appearance on this list with the Cigar Oasis Ultra 2.0. It is powered by a streamlined, thin electronic ribbon, and you do not have to drill any holes to install it. It is also very easy to use. Simply fill the cartridge with water, set the humidity level you want, and you are good to go.
The Ultra 2.0 does not rely on humidor beads, unlike other types of passive humidifiers. Humidor beads are materials made from silica that absorb or release humidity, depending on the conditions. The problem with this system is that it can leave a musty smell if dead air builds up. The Ultra 2.0 may be small, but you'll be surprised at how many cigars you can fit in it.
This is another popular model by Cigar Oasis and it's one with a reputation for power and efficiency. This ultra-sleek humidifier won't take up much space inside your humidor. It's powered via a USB AC adapter. The large LCD display is easy to read and allows you to closely monitor the internal conditions. The built-in thermometer will also allow you to keep an eye on the internal temperature inside the humidor. This model comes with a pre-filled, pre-treated water cartridge that uses distilled water.
The water cartridge should be refilled monthly. This device also comes with audible and visual low water alarms, so you can always ensure your cigars remain in the perfect humid environment. In terms of mounting, the magnet located on the back of the device allows you to easily install the humidifier anywhere inside the humidor. The internal sensors will start-up or shut off the fan in order to circulate the humidity inside.
The fan will automatically circulate the air and ensure it reaches every inch in the humidor. This helps keep all the cigars in good condition, so you get the best experience with every draw whenever you smoke.
This model is a bit more expensive than others, but with all the benefits it offers, you'll still come out ahead if you buy this product.
Pros
Easy installation
Visual and audible low water alerts
Built-in thermometer
Water cartridge
Low maintenance
Large display screen
Cons
Water cartridge must be refilled once a month
10.

Best Value: Ciguardian Humi Lube Head Gasket, Large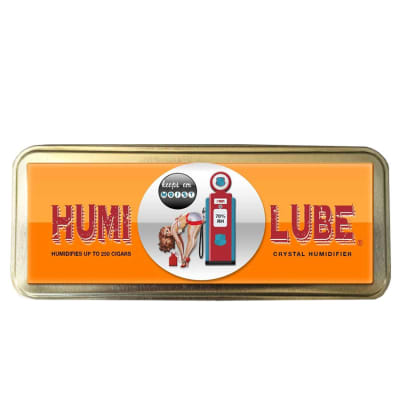 Our Rating: (4.5/5)
Cigars aren't cheap, so it is important to find a good storage solution to keep them in their best condition for longer. On top of a good-quality humidor, you need a reliable humidification device to ensure the right RH levels inside. For that, we recommend the Humi Lube Gasket.
Like any good cigar humidifier, it offers a slow and steady release of moisture to ensure your cigars stay fresh at all times. It's rectangular and big enough for humidors that can hold up to 250 cigars. So, how does it work?
Packed inside a reusable, rectangle, retro-style tin container is an innovative gel material that holds moisture well. You can then purchase refills from Humi Lube when the time comes. The container also has a magnet mount that lets you secure it to your humidor.
Pros
For up to 250 cigars

Best for large humidors

Low maintenance

Affordable

Simple and easy to use
Cons
Must be paired with Ciguardian Humi Lube solution

Not for low-quality humidors
11.

Best for Travel: Xikar Cigar Bar Humidifier


Our Rating: (4.5/5)

For humidors you use for travel, you can make sure your cigars maintain their perfect condition using the Xikar Cigar Bar Humidifier. Its small rectangular shape makes it the ideal humidification solution for portable humidors that can hold up to 50 cigars.

Like other Xikar humidifiers, it uses special crystals that can hold onto moisture and slowly release it when necessary. As such, you can guarantee a relative humidity level of 70% throughout your humidor.
Pros
Super affordable price

Ideal for small humidors

Great for travel

Up to 50 cigars

Easy to fill and use
Buyer's Guide
If you're new to humidor use, then you're probably wondering how to choose the right type of humidification system or even what your options are. There are several types, makes, and models to choose from. However, the type you buy will often depend on the type of humidor you have and what your budget is. Most entry-level models are relatively inexpensive and work for small, desktop humidors. These humidifiers work well but many aren't able to maintain a consistent level of relative humidity in the humidor. The relative humidity levels can vary depending on a wide variety of factors including where the humidor is located in the home, and whether it's left in bright sunlight all day. The crystal jar humidifiers are perfect for entry-level models and tend to maintain better humidity compared to foam-style humidifiers. Basically, both foam and crystal models tend to work the best for smaller humidors.
Options
As I mentioned, the size of the high-quality humidor you have will often impact the type of model you buy. Usually, the humidor will have a capacity of one hundred and fifty to two hundred cigars. However, there are models that are able to store thousands of cigars at one time. For these bigger models, an electronic humidifier is often recommended. These types of devices are very low maintenance and offer the type of set it and forget it operation that most buyers are looking for. For most models, you won't have to worry about refilling the water reservoir more than once every one to two months. But if you don't keep many cigars on hand, then a large humidor and electronic humidifier will definitely be overkill.
Keeping your cigar collection in a controlled and humid environment is crucial since it will allow your cigars to age over time, which will enhance their flavor. In the wrong conditions, your cigars may become too moist which will make them hard to light. They can also easily dry out if the humidity level is too low. Humidifiers are designed to provide a precise level of humidity in order to allow your cigars to maintain their flavor.
Additionally, if the humidity level is above 75% and the cigars are stored in a temperature over 65 degrees this can lead to a serious mold problem. So, if you've spent a significant amount of money on premium cigars and you have a large collection of cigar sizes. Then investing and the best cigar humidifier is a smart step and one that will keep your collection protected.
Electronic Humidifiers
A good humidifier can humidify as few as 25 cigars up to 10,000. The humidifier will come equipped with a cartridge that holds water and will humidify the air inside the humidor. These humidifiers typically come equipped with built-in sensors that are very accurate.
Fan
Once the device detects a drop in the humidity level a fan will activate and blow the humidified air around in the humidor. When the sensors detect that the humidor is at the correct humidity level the fan will automatically shut off. Most of the fans that you'll come across in a cigar humidifier will be quiet running and are powerful enough to efficiently circulate the air. However, you'll need to choose a humidifier that will work for the size of your humidor. Typically, you can find this information on the spec sheet in the form of how many cigars they are able to maintain.
If a device is only able to keep 25 cigars at the perfect humidity levels, then you know it's not designed for a larger humidor. Storing more cigars in the humidor than what the humidifier's able to handle can cause the device to work overtime which can result in overheating. If your new model seems to being struggling to maintain the right humidity level, then you'll need to contact the manufacturer for trouble shooting advice, or you can read my article on how to adjust the humidity of your humidor, for more great tips.
Foam
One of the most common and oldest humidifiers for cigars is floral foam humidifiers. This type of humidifier is made from super-absorbent phenolic foam. Once the foam has been soaked in water it utilizes capillary action in order to bring the water to the surface of the foam, releasing it over a long period of time. This type of humidifier typically comes encased in a large plastic container that has slots or holes located on the top that will let out moisture. To fill this device, you'll place the foam on a towel and slowly pour distilled water over it until the water begins to pool on the foam's surface. This option is often much more affordable compared to an electronic device, however, this type of humidifier will need to be replaced every 6 to 12 months.
Crystal and Gel
The standard crystal gel-based humidifiers will use small crystals that will eventually turn into a gel once they become wet. This means once you add distilled water they will go from crystal to gel form. As the gel begins to dry out it will return to the crystal form. This option is more affordable than electronic models and will need to be replaced every 12 to 24 months. They are also very low maintenance. Once you notice that the gel has returned to its crystal form you'll simply add more distilled water.
Beads
This humidifying option consists of silica beads that are designed to release or absorb moisture based on the humidor's humidity level. To activate the beads you'll need to use distilled water which should be refilled one to two times a month. These beads need to be replaced every 12 months since they tend to absorb some of the oils from your cigars, which can cause them to lose their effectiveness.
Water Pillows
Water pillows are a great option for small to mid-size humidors. These are the most affordable humidifiers on the market. They work much in the same manner as the beads, however, instead of the beads being held inside a plastic container, they're placed in a squared shaped bag that has vents on one side. The pillow is then soaked in distilled water and placed in a protective cover. While this is an affordable option, it's not able to maintain a consistent humidity level compared to higher-priced alternatives. However, it can be a great choice if you normally only store a few cigars at a time.
Distilled Water or Solution?
If you decide to use a water pillow or beads for humidification, then you'll want to recharge the device once a month by soaking it in a liquid. The pillow or beads should be placed in a large container and soaked in the liquid for ten to fifteen minutes. In terms of what type of liquid to use, you'll have a couple of options, distilled water being the most common.
Distilled water must be used in order to avoid contaminating the product with any dissolved solids or minerals found in tap water. Additionally, tap water usually causes the beads to mold at a faster rate compared to when distilled water is used. Tap water can also have a negative impact on the flavor of your cigars. Sticking with distilled water is the best option since it won't impact flavor and the beads can be used for a longer period of time.
The other option is a propylene glycol solution. This substance works by maintaining a certain humidity level. This type of liquid is marketed under a variety of names, however, all products work the same. When the beads or another type of humidifier is saturated with this solution instead of with distilled water, it can help to maintain a constant seventy percent humidity level. This will be especially important if you live in a dry environment. However, if you live in a humid environment, then this can result in humidity levels that are too high, so you'll want to stick with distilled water instead.
Size
To ensure that you purchase a humidifier that will work for your humidor I recommend measuring the humidor before you buy. Determine the humidor's size in cubic feet and compare it to the humidifier's spec sheet where it will list the size of the humidor it's capable of working with. You should measure the humidor regardless of whether it's a large free-standing model or a desktop model. To learn more about how humidors work and what can go wrong, click here to read my article on humidors that don't hold humidity well.
Power Options
If you purchase an electronic model, you can choose from battery-operated models or corded. Electronic models are ideal for the best cigar humidors. Each model will come equipped with a humidity sensor that will closely monitor the humidity level.
Hygrometer Use
Many of the leading humidors will come equipped with a quality hygrometer which is designed to record and measure humidity and temperature levels, you'll use one of these devices to ensure that you're new humidifier is doing its job.
Placement
Where you place a humidifier in the humidor will depend entirely on the make and model of your humidor in addition to the instructions that come with the humidifier. Make sure you read the user's manual before installing since some models will require you to place a humidifier in the middle of the humidor, in the back, or in a front location. Typically, a humidifier will have its fan aimed at the cigars either from the top or the bottom, however, once again this will depend on the make and model of your humidor.
Final Thoughts
A good cigar humidifier will expertly and precisely control the humidity levels in your humidor. The type you should choose will be based on the size of your humidor, how many cigars you store at one time, and your budget.
I hope this guide has helped you to narrow down your choices in order to find the perfect model that can keep your cigars tasting fresh, and allow them to age to perfection. Happy Puffing!