If you're looking for an accurate, easy way to closely monitor the humidity level in your humidor, then you need an analog or digital hygrometer. There are pros and cons to each type, however, this is a must-have device for any cigar smoker who keeps more than one or two cigars on hand.
Purchasing the best cigar hygrometer can have a major impact on cigar freshness. Most models of humidors will come equipped with a built-in analog style hygrometer, however, these devices are not always very accurate. So, you may end up with moldy or dried out cigars if you don't know how to calibrate one of these devices or if your humidor is equipped with a poor-quality hygrometer that's wildly inaccurate.
You should purchase a hygrometer depending on what type of humidor you have, its size, and the number of premium cigars you store. Many of these top models are very beginner-friendly so calibrating them will be a cinch. I've included both the leading analog and digital hygrometers on the market. Each type of device has a reputation for reliability and accuracy, so the type of technology you choose will be a matter of personal preference.
I've also created a buyer's guide that explains the differences between analog and digital hygrometers, how they're used, and why you should never store your cigars without one.
BEST OVERALL:
OASIS CALIBER 4R Hybrid DIGITAL/ANALOG HYGROMETER
The precision of Digital combined with the consistency of Analog – Make your humidor better with this superior design!

Read full review below.
The 6 Best Analog Hygrometers

Our Rating: (5/5)
If you consider yourself a cigar enthusiast, you have probably heard the name Cigar Oasis. There is also a good chance that you know they have been producing nothing but high-quality products since 1997.
So, if you are looking for the best hygrometer today, you should look no further than this product.
Western Humidor's latest analog hygrometer called the Cigar Oasis has a reputation or accuracy, with a rating of +/-1, which is pretty impressive. This model can also be recalibrated if needed, so if you notice a negative change in the flavor or quality of your premium cigar, you can recalibrate the device for a more accurate reading. This model is made out of aluminum, so it's naturally rust and corrosion-resistant, which is a huge plus considering many lower-priced hygrometers are prone to rusting. Installation is also a breeze thanks to the simple magnetic mounting option, which will securely keep the hygrometer in place and will also allow you to easily remove it, should it need to be recalibrated. This device should be recalibrated straight out of the box, for improved accuracy. Fortunately, the manufacturer includes easy to follow instructions that will allow you to recalibrate the device in just a couple of minutes.
All in all, Cigar Oasis packed a lot of good things in such a small hygrometer. It has all the features that cigar aficionados look for, which is quite surprising given its reasonable price tag. It is also very user-friendly, something that newbies will appreciate.
This hygrometer is a great buy for cigar smokers from all walks of life. In fact, it's probably the best hygrometer in the market using the analog technology.
Pros
Magnetic mount
High accuracy rating
Low price
Beginner-friendly
Easy to install
Cons
This model may need to be recalibrated once a month
2. Madelaine Analog Hygrometer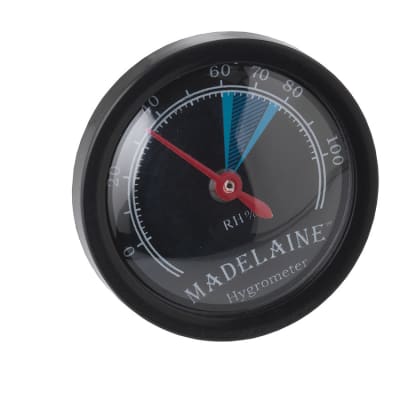 Our Rating: (4.5/5)
Madelaine Inc. is a household name when it comes to cigar accessories. In fact, its offerings are well-known worldwide because of their premium quality. Today, Xikar distributes most of its products, including the Madelaine Analog Hygrometer.
Unlike the previous options, it doesn't have a gold-colored case. Instead, it sports a black body made with durable plastic. It is also smaller than other options at just 1.75 inches in diameter. Even so, don't make the mistake of underestimating this cigar hygrometer.
Thanks to the vibrant red needle, reading the measurements is easy with this analog hygrometer. The RH zone is also highlighted in blue, so you'll know if it's within the recommended level. Madelaine suggests using a Boveda Calibration to ensure the highest level of accuracy.
Pros
Comes at a fair price

Works straight out of the box

Simple yet functional design

Durable and dependable

Easily calibrated
3. Heylulu Round Glass Analog Hygrometer
Our Rating: (4.5/5)
Though not as established in the industry, Heylulu offers a reliable analog hygrometer you can use to ensure your cigars are in an ideal environment. This round-shaped device boasts an exquisite and noble look, thanks to its gold color.
This analog hygrometer measures approximately 0.43 thick and 1.97 inches in diameter, so it has a compact and practical size. All you have to do is place it in your trusted cigar humidor, and you're good to go. A rubber ring at the back conveniently embeds into the reserved slots of most quality humidors.
It is made of a good-quality alloy metal, so it won't break easily and will resist corrosion. As an analog hygrometer, it has a mechanical movement you can rely on to deliver accurate readings. It also means it requires no batteries, saving you time and money.
With an accuracy rating of +/- 0.5%, you can rest assured that your precious cigars stay in favorable conditions, ensuring their maturity. Also, durability is not a problem because you can expect the pointer to remain stable for an extended period.
Pros
Impressive accuracy

Super affordable

Ideal for beginners

Can also be used for guitars and violins
4. Anync Round Cigar Hygrometer for Humidor

Our Rating: (4.5/5)
The Anync Round Cigar Hygrometer is a compact solution for measuring the relative humidity inside your cigar humidor. With a diameter of two inches and a thickness of 0.39 inches, it is a small device. Nevertheless, it can do what it is supposed to do and do it well.
The case is made primarily of metal, while the outer ring is aluminum. However, unlike the glass cover of the previous option, the Anync hygrometer has a plastic lens. Perhaps this is the reason why it is as affordable as it is. That said, this combination of premium materials guarantees a stylish, corrosion-resistant, and durable hygrometer.
This analog cigar hygrometer has +/- 0.5% accuracy, something you won't find in options in this price range. Plus, it requires little to no maintenance, as you won't have to replace any battery. Anync sends out its hygrometers pre-calibrated, but it's a good idea to do another one after receiving the device.
Pros
Plastic lens feels like glass

Works even better than advertised

Looks stylish

Doesn't break the bank
5. CyJay Round Analog Hygrometer

Our Rating: (4.5/5)
This analog device by CyJay features a low price and a durable design. It comes with an advanced humidity sensor designed to improve reading accuracy within one percent. It's made out of corrosion-resistant materials and is highly portable and easy to use. The biggest drawback is the installation process. To install, you'll need to drill a hole in your humidor and screw it in.
Pros
Low price
Adjustable
Accurate
Beginner-friendly
Cons
Lengthy installation
No installation instructions included
Medium Round Analog Hygrometer
6. Quality Importers Trading Round Glass Analog Hygrometer
Our Rating: (4.5/5)
Quality Importers Trading Co. needs no introduction when it comes to cigar humidors and accessories. For over 20 years, it has been serving happy and satisfied cigar smokers all over the United States. As such, it's no surprise to include one of its products on this list.
A reliable hygrometer is an essential accessory that every cigar smoker should have in their arsenal. And Quality Importers understands this need very well. While it offers several analog options, I particularly liked this round hygrometer for its simplicity.
At 2.25 inches in diameter, it is just the right size for my medium cigar humidors. Plus, it comes in a classic polished brass finish in beautiful gold color. The front cover is made of glass, making it easy to read the measurements. At the back is a magnetic mount to allow you to attach it to your humidor with ease.
When it comes to accuracy, there's nothing to be afraid of because Quality Importers Trading has been in this business for a while now. Besides, you can quickly and easily calibrate the device to ensure accuracy using the calibration screw.
Pros
Easy to read

Accurate measurements

With magnetic mount

Great value for money

Not affected by high humidity

The 7 Best Digital Hygrometers
1. Sensor Push Wireless Thermometer/Hygrometer

Our Rating: (5/5)
This wireless digital hygrometer features a simple setup via the free app. All you have to do is hold the device's sensor against your smartphone's screen. It's also compatible with both Android and iOS devices. It features an impressive line of sight range of three hundred and twenty-five feet and will allow you to closely monitor the conditions in your humidor, around the clock. The included app is very intuitive and user-friendly. This model is also highly accurate thanks to the Swiss-made internal sensors.
Pros
Simple setup
App
Compatible with iOS and Android devices
Very accurate
Does not need to be recalibrated

Our Rating: (4.5/5)
This digital device is equipped with an advanced humidity sensor that features an accuracy rating of one percent. Since it comes calibrated right out of the box, you won't need to worry about a complicated setup. However, it can also be recalibrated if you're uncertain as to whether or not it's providing an accurate reading. It features a three day low and high average humidity readings so you can monitor how often the humidity level fluctuates in the humidor. The magnetic mount makes installing this device fast and easy.
Pros
Three-day humidity level tracking
Low price
High accuracy rating
Magnetic mount
Can be recalibrated
Cons
Battery-operated
Made out of plastic

Our Rating: (4.5/5)
This model comes calibrated right out of the box, however, it also comes with calibration instructions, which you can used to recalibrate the device if needed. This model has an accuracy rating of two percent, which can be a major drawback for some potential buyers considering there are many other models in this price range that have an accuracy rating of one percent. This device offers a fast refresh rate of ten seconds, and a digital display that's easy to read.
Pros
Easy to calibrate
Arrives calibrated right out of the box
Ten-second refresh rating
Built-in thermometer
Low price
Cons
Two percent accuracy rating
4. HUMI-CARE Rectangle Digital Hygrometer

Our Rating: (4.5/5)
This digital hygrometer is easy to use, install and set up and features a high accuracy rating. It runs on standard AAA batteries and features a vivid, large digital display that will allow you to closely monitor the humidor's humidity level. Unfortunately, it's not adjustable, so it cannot be recalibrated. However, it does come equipped with a built-in thermometer, so you can monitor both the humidity level and temperature inside the humidor.
Pros
Built-in thermometer
Runs on AAA batteries
Low price
Large display
High accuracy rating

Our Rating: (4.5/5)
This model offers the best of both worlds and works as both a digital and an analog hygrometer, so basically, you're getting two models in one. It features a classic analog design, complete with a digital display. It's also considered one of the most accurate models on the market. If you want to keep track of how often the humidity level in your humidor fluctuates, then you'll love this model's ability to track these changes in humidity for a period of three days.
Pros
Low price
Digital and analog
Large display
Can track humidity levels for three days
Cons
Not beginner-friendly
Difficult to mount

Our Rating: (4.5/5)
This model is highly accurate, right out of the box, so it doesn't need to be calibrated. It features a built-in thermometer, so you can keep a close eye on both the humidor's temperature and humidity level. The large display is easy to read, while the device's aluminum design gives it a modern look. It features a ten-second refresh rate and will allow you to track the temperature and humidity conditions for up to three days at a time.
Pros
Aluminum design
Low price
Built-in thermometer
Calibrated right out of the box
Can track humidity level and temperature for up to three days
Fast refresh rate
Cons
Cannot be calibrated
Not beginner-friendly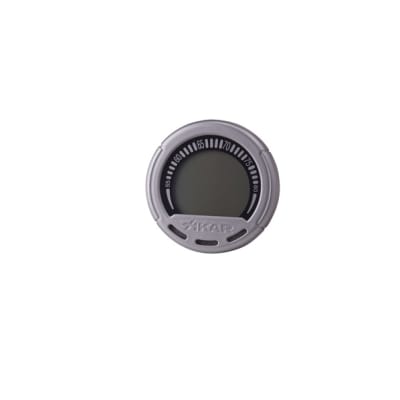 Our Rating: (4.5/5)
New to smoking cigars? Like most newbies, you probably prefer smoking them over caring for them. Xikar promises to do the hard work for you through the help of this digital gauge hygrometer, which is slightly bigger than most round options at 2.28 inches.
What we like most about the Xikar Digital Gauge Hygrometer is that it requires no calibration. You can expect to get readings with +/- 2% accuracy, making it better than other options in the same price range. It can read humidity levels from 20 to 95%.
Even better, you can switch between Celsius and Fahrenheit, depending on your preference. The temperature range is quite impressive, too, from -50 degrees Fahrenheit (0 degrees Celsius) to 120 degrees Fahrenheit (32 degrees Celsius), give or take +/- 1 degree.
Pros
Low price

Comes with a built-in thermometer

Works right out of the box

Mounts with a magnet
Cons
Cannot be calibrated

Needs batteries
Cigar Hygrometers Buyer's Guide
If you are new to the cigar community, you might have limited experience when it comes to the proper storage of cigars. There is also a good chance you are wondering, "Whats a hygrometer anyway?" Another question you will probably come across as you try to learn more is the topic of hygrometer vs hydrometer.
The hygrometer vs hydrometer debate is quite common among newbies as the two devices have very similar-sounding names. To give you a better insight, let's take a closer look at both of them.
A hygrometer is a device that measures the amount of moisture in the air. This small device will ensure that your cigars age nicely in your humidor. Their job is to monitor the humidity and temperature inside. Keep in mind, this device works solely as a monitor and it doesn't actually work to regulate humidity or the temperature. If you're having issues with your humidor not holding humidity using a hygrometer can help you keep a close eye on the moisture level, so you can adjust the humidity level accordingly.
This device is one of two important pieces of equipment that you'll use to keep your cigars tasting fresh. Obviously, the other device is a humidifier, which is designed to control the humidity level and keep the moisture in balance.
The hygrometer is crucial since it will allow you to closely monitor the conditions inside the humidor. Unfortunately, if you don't know how to store cigars properly, then you'll need to do a little research to find the best cigar humidor that will suit you're smoking needs based on how many cigars you keep on hand.
Another option is learning how to make your own humidor. Of course, if you go this route, then you'll also need to cut a hole in the top of the box and install an analog hygrometer. There are many tips and tricks when it comes to designing and making your own humidor. To learn more click here.
On the other hand, a hygrometer measures the specific gravity of liquids, not the humidity of the air around it. It is often used by breweries to determine the density of alcohol. It is also used to measure how diluted milk is.
The best hydrometer will find many uses in various industries, but it has no application in cigar humidors. What your cigars need is a device that will determine the level of humidity (done by the hygrometer) and a humidifier that will help maintain the ideal conditions. In short, you do not need the best hydrometer; what you need is a reliable hygrometer.
Why You Need it
Essentially, the hygrometer is considered the cigar smoker's best defense against cigars drying out, mold growth, and bugs. You'll be surprised by how much the humidity level and temperature can fluctuate throughout the day, especially if you have your humidor stored in a brightly-lit environment.
Digital Hygrometers
The digital hygrometer is a device that relies on modern technology. This type of hygrometer is much easier to read and more reliable compared to the analog version. Additionally, they don't usually require calibration. However, in some cases they will need some time to adjust to sudden changes in humidity and tend to not show these changes instantly. This type of hygrometer comes equipped with digital sensors. These sensors are used to measure the humidity level in the air and will provide a digital readout. Because of this, this type of hygrometer has a reputation for being easier to read. And it's also known to be much more accurate than analog models. Yet, there have been some reports that the digital hygrometer can lose some of its accuracy when it's stored in low humidity levels.
Extra Features
Most digital models are able to handle more than one job and usually come with built-in thermometers, in addition to other features. Some will also come equipped with a memory mode that allows the user to store fluctuations in temperatures and moisture levels and track them over a period of time. Obviously, this will come in handy if your goal is to track the humidor's condition to learn how easy or difficult it is to maintain the desired humidity level and temperature at all times.
Fortunately, this type of hygrometer is very affordable, yet keep in mind that most high-end digital models can be pretty pricey.
Analog
Unlike their digital counterparts, analog models don't rely on digital sensors to track moisture levels in the air. Some will come equipped with a metal spring that will loosen or tighten depending on the humidity level. If you purchase a humidor it will usually come equipped with an analog hygrometer. A hair hygrometer is said to also be very accurate.
Some hair hygrometers will come equipped with synthetic hair instead of real human hair, however, these devices are said to be as accurate as models that rely on natural hair. Since they require little-to-no maintenance they're perfect for the new cigar enthusiast.
Many smokers love the look and style of the analog hygrometer. If you're a collector, you can find a wide range of antique style models to choose from that will make a beautiful addition to your humidor. Cigar aficionados have claimed that premium analog models offer a much higher precision level compared to digital models, however, these analog devices often need to be recalibrated at least once a month, sometimes more. Since they're very delicate they can easily be thrown off in terms of accuracy. Additionally, over time they can also lose some of their accuracy. If you decide to go with an analog model than you'll need to learn how to calibrate it based on the manufacturer's instructions.
Digital vs. Analog Hygrometer
Most models of humidors will come equipped with an analog hygrometer. Analog hygrometers feature a couple of arrows that designate the metrics. However, while some beginners tend to trust these built-in hygrometers to keep track of the conditions inside the humidor, experienced cigar enthusiasts will often opt for a digital model that they can use in addition to the built-in hygrometer. This is because some models of humidors have hygrometers that are very inaccurate. Many cigar smokers do not trust these devices since most manufacturers don't perform any testing or calibration before releasing these models on the market. Because of this, you're better off purchasing an additional hygrometer and comparing the two in order to determine the precise humidity levels and temperature inside the humidor.
Digital hygrometers have a reputation for providing a more accurate readout, and they're definitely considered more reliable.
However, even digital models can be inaccurate right out of the box. Because of this, you'll need to calibrate it before you put it to work. Once calibrated, you may even notice that it's a few points off compared to the built-in analog hygrometer in your humidor.
Correct Humidity Levels
The correct humidity level for a cigar humidor is debatable and can range anywhere from 64% to 72%. This can often depend on your home environment and the type of cigars you store. However, many experts recommend a humidity level of around 72%. But when it comes to Cuban cigars many of the same cigar aficionados recommend a humidity level of around 64%. In terms of temperature, it's recommended that a humidor be kept at 70 degrees. Yet, this can also largely depend on personal taste and the type of cigars you store.
Measuring Humidity Accurately
Most smokers can agree that a digital hygrometer is the best way to accurately measure humidity. Because of this, digital models are more popular than their analog counterparts. However, both devices can be equally accurate and will mainly depend on the quality of the hygrometer itself. If you don't know whether or not your hygrometer is providing an accurate reading visit the manufacturer's website or consult a user's manual in order to recalibrate the device. Signs such as mold growth and tobacco dryness can clue you in on whether or not the device is providing an accurate reading.
Final Thoughts
If you have invested in several premium cigars, then choosing the best cigar hygrometer will be an important part of keeping your cigars tasting fresh. I created this guide to give you a clear understanding of how these devices work and which type of hygrometer you should purchase whether it's analog or digital, based on the type and size of humidor you have, where it's placed in the home, and how many cigars you have on hand. Some cigar enthusiasts will choose digital over analog, while those who have invested several hundreds of dollars in premium cigars will often rely on both. In the end, it will be up to you, your personal preference, the type of humidor you have, your budget, and how much you've invested in your cigar collection.