The cigar industry has been around for centuries, so it's not surprising that it's saturated with countless products from globally known to less popular brands.
There was one cigar that may not have rocked the entire cigar world, but it still did create some buzz because of its uniqueness and how it delivered quality and finesse.
We are talking about none other than this cigar from David Ortiz.
In this Big Papi cigar review, we'll tell you why you should try to smoke this one out in your next session.
Big Papi by David Ortiz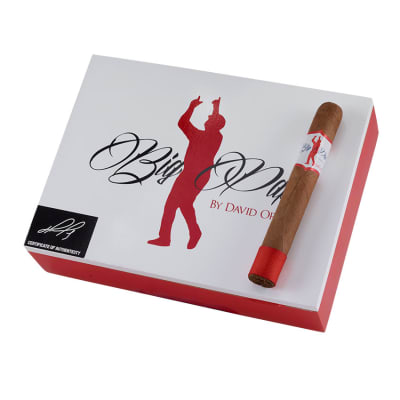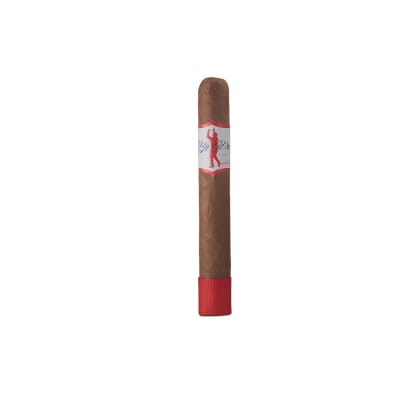 David Ortiz is a former professional baseball player who played for the Boston Red Sox from 1997 to 2016.
He's a great slugger who can hit the biggest home runs in the biggest baseball cities in the biggest games.
A few months before he officially ended his Major League Baseball career, David Ortiz announced that he was collaborating with a popular cigar shop in the Dominican Republic called Tabacalera El Artista.
The fact that he's a heavy hitter, stands at 6'3″ and weighs 230 lbs., and has quite an overwhelming physique earned him the nickname "Big Papi." Hence, the name of this cigar.
The Big Papi by David Ortiz was introduced to the cigar industry on October 2016 at the IPCPR Convention & Trade Show.
A few weeks after, it was officially launched on November 3. Surprisingly, especially for a Boston Red Sox legend, the launch was held in New York City, the home of the Yankees.
Who Is This Product For?
The Big Papi cigar is an excellent choice for baseball fans who also love smoking.
David Ortiz cemented his name in baseball history, and it would be nice to find what he has to offer in other areas, like cigars.
Even if you're not much into baseball, the cigar itself is actually quite impressive, making it suitable for those who love the strong taste of high-quality cigars.
It's important to note that the Big Papi lives up to its name as it is indeed a big cigar.
Ergo, it may not be for people who like smaller cigars for a quick smoke.
What's Included?
The Big Papi cigar comes in 20-count boxes. The box itself looks neat, with a white cover on top and a red base, kind of what you would expect from a cigar named after a Red Sox designated hitter and first baseman.
On the cover is the print Big Papi in black with Ortiz's silhouette in red.
Upon opening the box, you get two layers of cigars wrapped in plastic, each with ten toro cigars.
We love the fact that the box it comes with can also function as a humidor. It may not be as efficient as other high-end humidors, but it's good enough to keep your cigars in one place.
That's something you don't often see in a lot of 20-count cigars nowadays. They usually offer the box or humidor as an add-on, which means it'll cost you extra.
Overview of the Features
Here are some of the most notable features of the Big Papi Cigar you need to know about:
First, let's talk about how the Big Papi combines the best quality ingredients from three countries popular for cigars. We have the Habano claro wrapper that comes from Ecuador.
It sits on top of a Dominican criollo 98 binders. Finally, we have fillers that come directly from both the Dominican Republic and Nicaragua.
As a result, we get an exceptional cigar inspired by an exceptional baseball player.
As for Radhames Rodriguez, the president of El Artista, he said he's honored to be making this cigar with Ortiz.
Before we dive deep into the rich notes of this cigar, let's talk about what you'd get upon opening the packaging of each cigar.
Aside from the Dominican Republic's flag on the back of the band, the cigar carries Tabacalera El Artista's shield, the manufacturers, and producers of this tobacco stick.
The colored wrapper appears to be a bit mottled, which kind of reduces the attractiveness of the cigar.
This is furthered by the fact that there are quite a few noticeable veins on the stick, especially on the backside.
The surface also appears and feels to be a little oily. Nonetheless, despite being half the price of some of the most expensive cigars, the Big Papi appears well-packed, and the seam lines are almost unnoticeable.
The cap is also well applied, even though it looks a bit dome-like. Surprisingly, the band features pinstripes, often associated with the New York Yankees.
Nonetheless, the pinstripes were in red, so it might be Ortiz's way of honoring both teams.
Once you remove the red ribbon foot band, the first flavor profile that will greet you is fruity potpourri with a strong hint of strawberry.
The strawberry glaze is also what you'd get on the cold draw. Upon lighting it, you'd quickly taste notes of leather with cedar undertones.
Coffee notes and an abundance of spice quickly follow this.
However, once you've finished the first third of the cigar, the bright leather flavor begins to take over.
The woody profile remains consistent, nonetheless. As the cigar keeps changing flavors, you'd soon find a balance of cedar and sourness that seems to lighten the strong woody flavor.
As you get to the last third of the cigar, you'd be greeted by a crisp wood flavor, chestnut notes, coffee, a touch of salt, and a little bit of sweetness.
It may seem like a curveball, and you may not even be able to track down where the earthy base is coming from, whether it's from the Ecuadorian wrapper, Dominican binder, or Nicaraguan fillers.
The flavor progression is so wild that we're not surprised it's been the talk of various cigar podcasts from time to time.
Nonetheless, the wildness of the flavor's pitches never strikes out. Instead, it hits a home run and leaves notes of pepper and a tingle on the tongue as the cigar burns its last third.
The overall smoke time of the Big Papi is around two hours. As you finish the nub, it leaves pepper and metallic notes on the mouth.
As you get closer to the nub, the draw gets more labored, and the smoke production is reduced.
Pepper takes on the limelight, and you'd taste the obvious Nicaraguan flavor of the cigar.
That is also quite surprising, considering that Ortiz is a proud Tabacalera El Artista and Dominican who is mainly based in the Dominican Republic.
We believe this cigar should've been a Dominican puro.
Nonetheless, the mixture of the different ingredients from the three countries surely did the cigar good and gave anyone who smokes this an interesting ride.
Pros:
Affordable
Mixes various ingredients from three popular cigar countries
Superb packaging
Seam lines are invisible
Starts with a strong fruity flavor
Follows with strong hints of coffee, leather, wood, and pepper
Cons:
Flavor is a bit inconsistent
Oily sheen
Noticeable veins
Not suitable for people who don't prefer longer smoking time
How to Get the Most Out of the Big Papi Cigar
If you want to get the most out of the Big Papi, we recommend that you dry box it or leave it in your humidor for one to two days.
As we've mentioned, the thick wrapper of this cigar is significantly oily. Dry boxing removes some of the oiliness for a more relaxing smoke session.
Since the Big Papi is a full-bodied, strong cigar, we recommend you pair it with cognac, rum, or bourbon.
Cognac, in particular, avoids being too heavy and rides on with the waves of the cigar's aroma. Spicy rums will also do the trick.
Alternatives
If this Big Papi cigar review is not enough to encourage you to try a stick, we have quite a few options for you.
You can never go wrong with a Davidoff Winston Churchill. It's quite related to the Big Papi because it also provides a citrus and fruity profile with undertones of coffee, cedar, and other spices.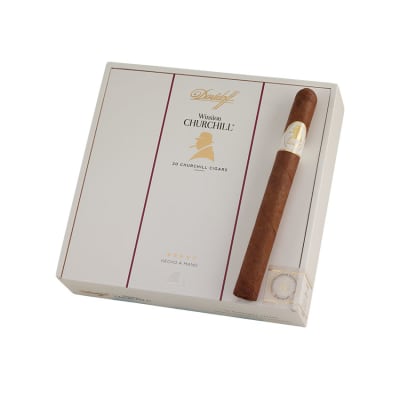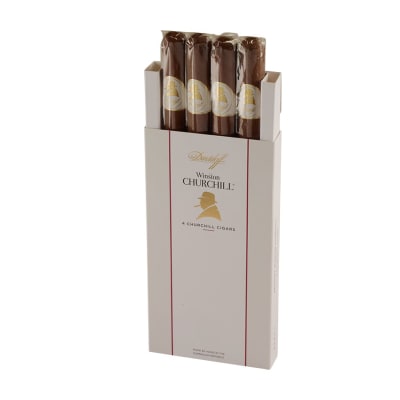 However, the Winston Churchill from Davidoff has a more consistent burn and flavor, nothing off-putting that will throw you off the tracks.
While there is a certain level of resistance to the Churchill's draw, it's still pretty snug and balanced.
On the other hand, if you're a fan of wild rides but are not fond of rather big cigars, we suggest you go for Acid's Subculture Progeny.
This infused, medium-strength cigar is only about 5.5 inches long, with a ring size of 46/64.
It starts with a sweet taste with hints of cinnamon and herbs. The woody taste of tobacco follows it when you reach half of the cigar and stays consistent up to the nub.
Nonetheless, the flavors continuously change, with hints of mild earth and all sorts of fruits spurting out occasionally.
It also doesn't turn bitter, and because it's not too strong, it's also an excellent choice for beginners.
Big Papi Cigar Review: The Verdict
Overall, it's a decent cigar, especially considering its price. It's certainly a cigar that every enthusiast should try, even if it's just for the wild ride.
Nonetheless, we admire the level of craftsmanship that went into it.
From the elegant-looking box to the beautifully marbled wrapper with a fine grain of tooth, the Big Papi can play with the big guys.
As the flavors intensify, so does your experience of this cigar.
David Ortiz hit a home run with the Big Papi, especially since it was his first venture into the cigar industry.
We're excited to see what he has to offer in the future. Hopefully, it would be an improved version of this interesting stick.